Entertainment Supply & Technologies has GDC cinema servers in stock and ready to ship. This model offers two terabytes (2 TB) of portable storage and is highly compatible with a range of projectors.
Description
The GDC cinema server SR-1000 Standalone Integrated Media Block integrates with Series 1, 2, 3, and 4 DLP Cinema projectors including those from Barco, Christie, and NEC. The server is built on GDC's proprietary CineCache built-in memory technology which allows for quick ingesting of content and reliable playback.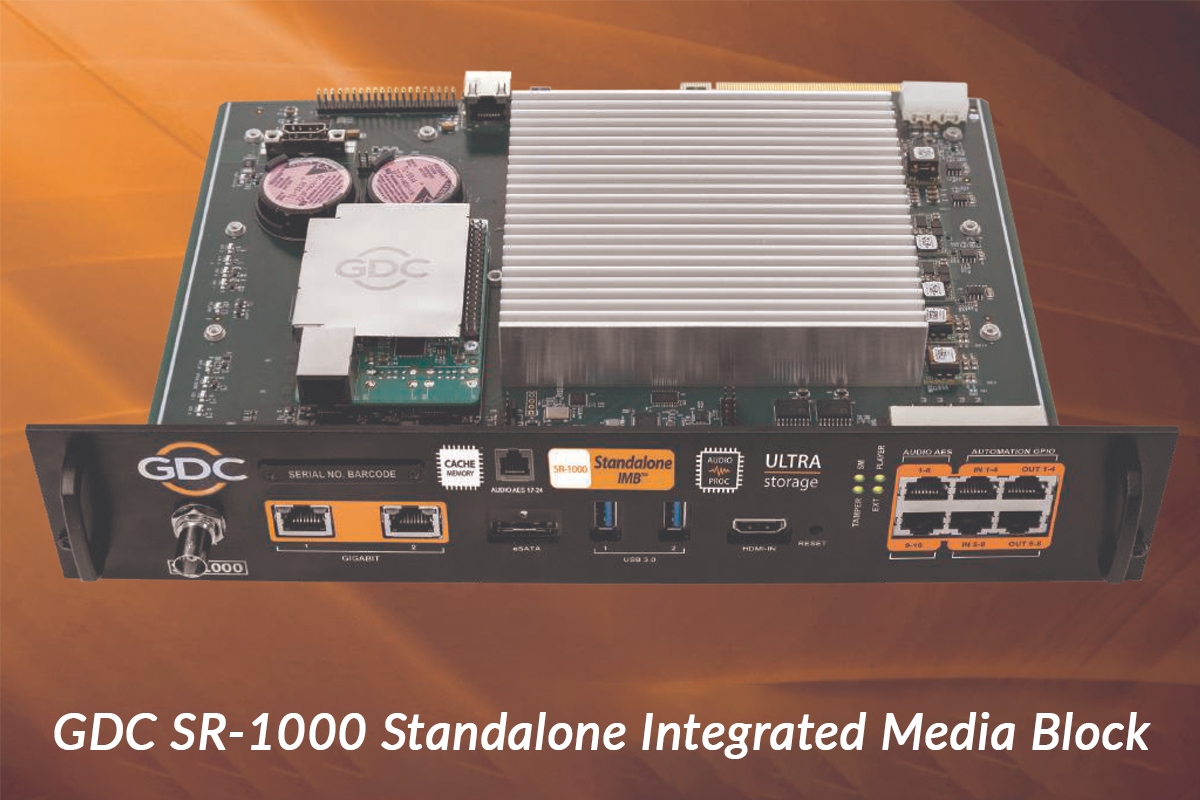 Benefits
The SR-1000 cinema server can allow theatre managers to streamline operations. All of the content on the server can be shared with any screen at all times. The cinema servers come with built-in wifi. And the user-friendly interface allows you to manage content from anywhere. Even a smartphone or tablet.
Streamlined Operations
According to GDC, the SR-1000 can ingest an average-length movie in about 30 minutes. And can also share content between auditoriums in the same amount of time. No more waiting for a showing to finish!
Reliability
The electrical power system in this GDC cinema server uses military-grade technology. With built-in power, the SR-1000 is certified to run a mean time between failures (MTBF) of 100,000 hours.
---
Specifications
For a complete deep dive into this GDC cinema server's specifications, go here.
Here are the highlights.
Interfaces
2 x Gigabit Ethernet – (1GbE/RJ-45)
1 x eSATA 6 Gbps
2 x USB 3.0 (A-Type Female)
1 x BNC (video sync input)
1 x HDMI® 2.0 (alternative content input)
8 x GPI (2 x RJ-45)
8 x GPO (2 x RJ-45)
Audio
24-bit AES3, up to 24-channel, 48/96 kHz (2/31 xRJ-45)
Up to 24-channel DTS:X decoder
Up to 15-channel 1/3 octave Graphic EQ and independent bass/treble control (non-LFE channels)
Parameter EQ for LFE channel (Subwoofer)
Global delay for all channels and independent audio delay (500ms) for individual channel
Environment Requirements
Dimensions – 320 (W) x 240 (D) x 63.7 (H) mm
Weight – 1.4 kg
Operating temperature – 0°C to 40° (32°F to 104°F)
Operating humidity – 20% to 90%, non-condensing
---
How to Order
If you have any questions about the cinema servers we have in stock or any other brand of cinema content management, call us at (813) 960-1646. If you'd like to drop us a note, use our form here. To learn more about us, meet Team ES&T here. Or email us anytime at [email protected].