NEW HARTFORD, NY (May 7, 2019) In the middle of the Kanawha State Forest in upstate New York, moviegoers are spending their summer listening to amazing sounds.  And we're not talking about the buzz of mosquitos or the collective chirp of crickets.
We mean Dolby ATMOS – a complete immersion into the sounds of the stories playing on the big screen at the Marquee Cinemas Orchard 14.
In close collaboration with the ownership and management of Marquee Cinemas,  ES&T renovated two of the venue's auditoriums to create the Marquee Extreme Cinema experience. Complete with the ATMOS sound system, ES&T technicians mounted wall-to-wall screens and installed heated – yes, heated – recliners. Winters in upstate New York are as extreme as these new auditoriums!
While the two Extreme Cinema auditoriums boast the heated recliners, the remaining 12 screens were not left out entirely in the cold.  When all was said and done, ES&T installed new seating in every auditorium for a grand total of 1,253 new recliners. It was A LOT of recliners, and perhaps another tale for another day.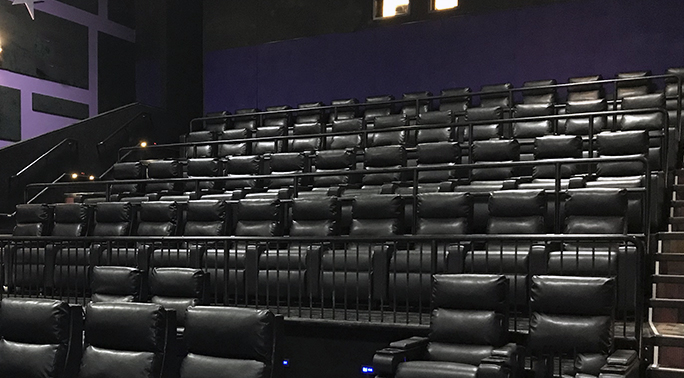 Extreme Cinema moviegoers will enjoy new releases through the lens of new 4K Christie Digital projectors. Finishing touches Team ES&T installed – although not half as glamorous as 4K projection or immersive sound – include aisle lighting, wall draperies, the frames for the screens.  To enhance the concession experience, technicians also installed 17 LED displays of varying sizes to enhance menu presentation.
MEDIA CONTACT: Christina Woodlief
Phone: 813.960.1646
Email: [email protected]